Description
Does your company need a large number of Raspberry Pi 5 or help with Raspberry Pi hardware/software? Contact us here.
This is the Raspberry Pi 5 with 8 GB RAM.
With a 64-bit quad-core Arm Cortex-A76 processor at 2.4GHz, Raspberry Pi 5 delivers a 2-3x increase in CPU performance over Raspberry Pi 4. In addition to a significant boost in graphics performance from an 800MHz VideoCore VII GPU; dual 4Kp60 display output over HDMI; and state-of-the-art camera support from a rebuilt Raspberry Pi Image Signal Processor, it provides a smooth desktop experience for consumers and opens the door to new applications for industrial customers.
For the first time, this is a full-size Raspberry Pi computer that uses silicon built in-house at Raspberry Pi. The RP1 "southbridge" provides the bulk of the I/O capabilities for the Raspberry Pi 5 and delivers a step change in peripheral performance and functionality. Overall USB bandwidth is more than doubled, providing faster transfer speeds to external UAS drives and other high-speed external devices; the dedicated two-lane 1 Gbps MIPI camera and monitor interfaces found on previous models have been replaced by a pair of four-lane 1.5 Gbps MIPI transceivers, which triple the overall bandwidth and support any combination of up to two cameras or monitors; peak SD card performance is doubled through support for SDR104 high-speed mode; and for the first time on the platform, there is now a single lane PCI Express 2.0 interface that supports high-bandwidth peripherals.
Specifications
Processor: Broadcom BCM2712 2.4GHz quad-core 64-bit Arm Cortex-A76 CPU, with cryptography extensions, 512KB per-core L2 caches, and a 2MB shared L3 cache
Features:
VideoCore VII GPU, supporting OpenGL ES 3.1, Vulkan 1.2 – Dual 4Kp60 HDMI® display output with HDR support
4Kp60 HEVC decoder
LPDDR4X-4267 SDRAM (4GB and 8GB SKUs available at launch)
Dual-band 802.11ac Wi-Fi®.
Bluetooth 5.0 / Bluetooth Low Energy (BLE)
microSD card slot, with support for high-speed SDR104 mode
2 × USB 3.0 ports, supporting simultaneous 5Gbps operation
2 × USB 2.0 ports
Gigabit Ethernet, with PoE+ support (requires separate PoE+ HAT)
2 × 4-lane MIPI camera/display transceivers
PCIe 2.0 x1 interface for fast peripherals (requires separate M.2 HAT or other adapter)
5V/5A DC power via USB-C, with Power Delivery support – Raspberry Pi standard 40-pin header
Real-time clock (RTC), powered from external battery
Power button
Raspberry Pi 5 Overview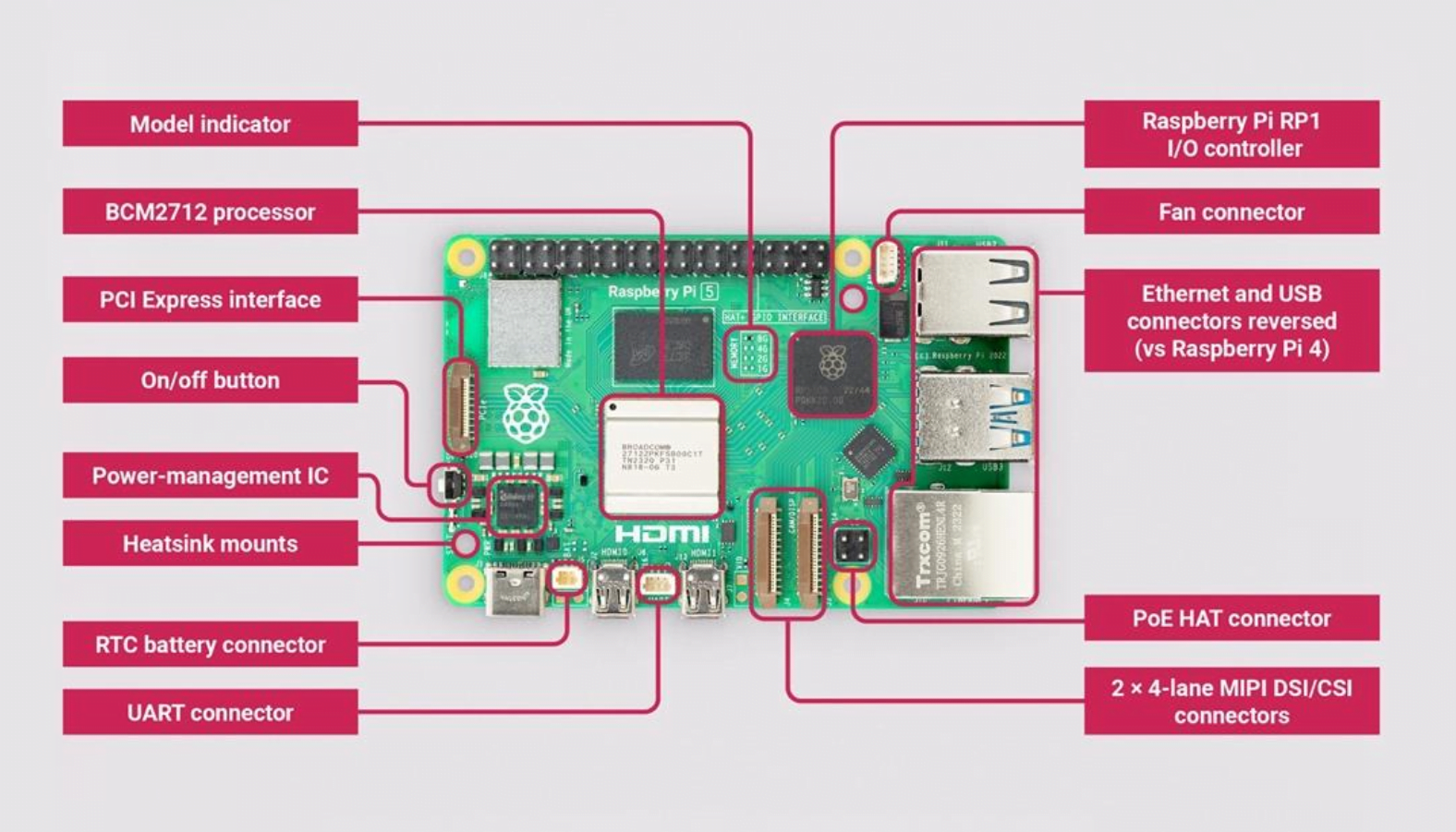 Physical dimensions