Description
The Raspberry Pi 400 kit is a complete personal computer built into a compact keyboard, with everything you need in the box (minus a monitor  or TV)!
Raspberry Pi 400 is ideal for surfing the web, creating and editing documents, watching videos, and learning to program using the Raspberry Pi OS desktop environment.
The Pi400 shares the same great performance as the Raspberry Pi 4  but with the 64-bit CPU clocked to a whopping 1.8GHz thanks to the large internal heatsink. This sits alongside 4GB RAM, dual-band wireless networking, dual-display output and 4K video playback.
The familiar 40-pin GPIO pins are located at the rear of the keyboard for wiring up electronics projects, alongside two USB 3.0 ports and a USB 2.0 port. There's even an on/off power option via the F10 key.
Raspberry Pi 400 Spec
Processor: Broadcom BCM2711 quad-core Cortex-A72 (ARM v8) 64-bit SoC @ 1.8GHz
RAM: 4GB LPDDR4-3200
Connectivity:

Dual-band (2.4GHz and 5.0GHz) IEEE 802.11b/g/n/ac
wireless LAN, Bluetooth 5.0, BLE
Gigabit Ethernet
2 × USB 3.0 and 1 × USB 2.0 ports

GPIO: Horizontal 40-pin GPIO header
Video & sound: 2 × micro HDMI ports (supports up to 4Kp60)
Multimedia:

H.265 (4Kp60 decode)
H.264 (1080p60 decode, 1080p30 encode)
OpenGL ES 3.0 graphics

SD card support: MicroSD card slot for operating system and data storage
Keyboard: 78- or 79-key compact keyboard (depending on regional variant)
Power: 5V DC via USB connector
Operating temperature: 0°C to +50°C
Dimensions: 286 mm × 122 mm × 23 mm (maximum)
This kit consists of: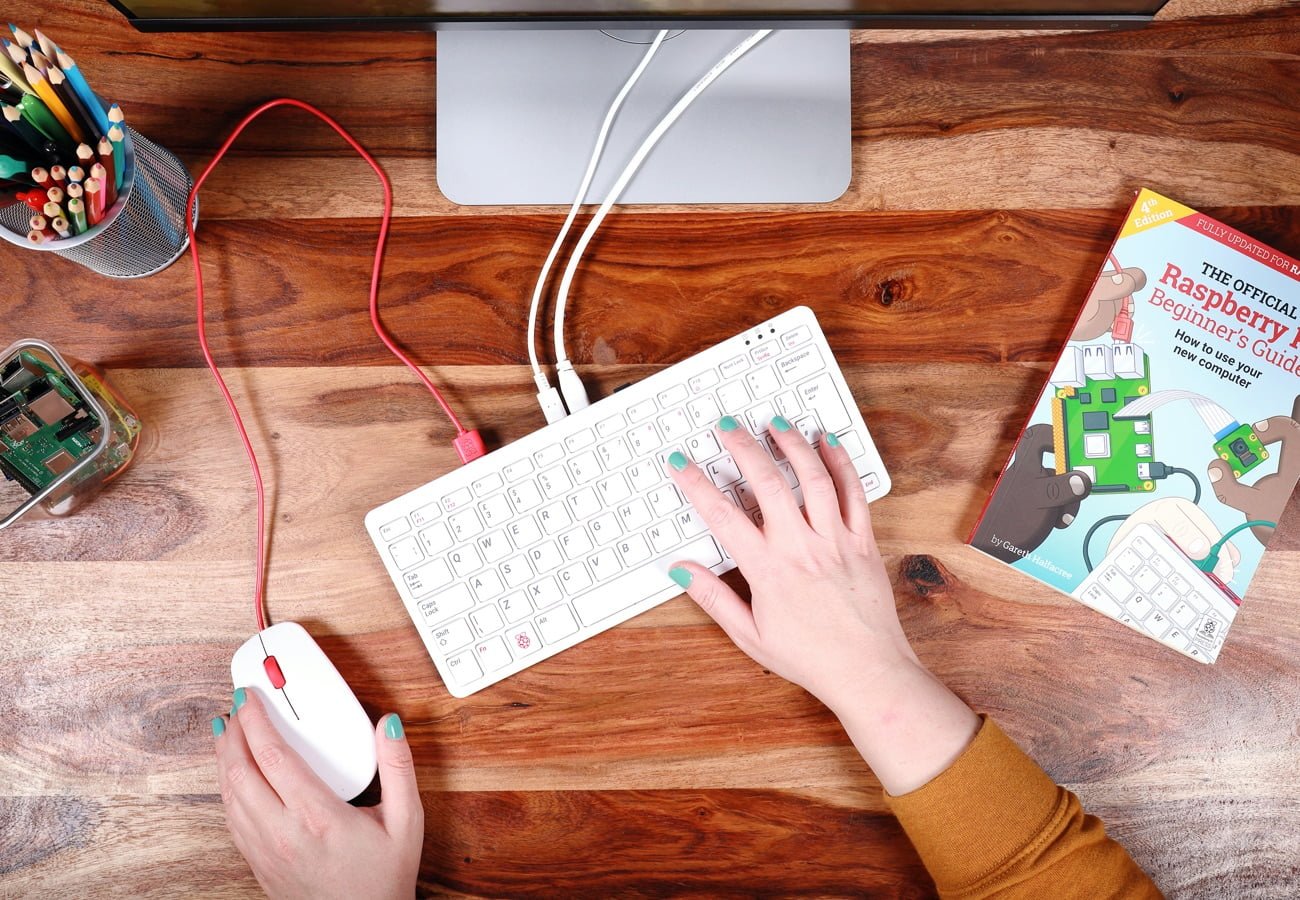 For teachers. For learners.
Raspberry Pi 400 is the perfect educational tool for students of all ages. Low-cost and portable, it is ideal for home study, and for teaching computing concepts like programming, physical computing, and networking.