Description
In the box:
Features At A Glance
The UGV01 series is a tracked mobile robot chassis, which features superb off-road crossing ability and anti-vibration performance, open source all code for secondary development. It supports multiple host computers (Raspberry Pi, Jetson Nano, etc), the host computer can communicate with the ESP32 slave computer through the serial port. The motor with encoder can obtain the speed feedback for closed-loop speed control. Built in 3S UPS power supply module, supports 3 x 18650 Li batteries (in series, NOT included), which provides uninterruptible power for the robot and supports charging and power output at the same time. Built in multi-functional robot driver board, based on ESP32, with onboard WIFI and Bluetooth, for driving serial bus servos, outputing PWM signal, expanding TF card slot, etc.
The UGV01 adopts multiple independent Suspension Systems which greatly reduce the impact of complex terrains, can easily meet the needs of heavy loads, shock absorption, and off-road. Also, it comes with 2x 1020 European standard profile rails, provides more possibilities for secondary development.
Specifications
| | | | |
| --- | --- | --- | --- |
| Outline dimensions | 231×197×151mm | Suspension systems | 4×2 (independent) |
| Chassis height | 26mm | Rail Center distance | 170mm |
| Track width | 44mm | Running speed | 0.25~1m/s |
| Track level grounding length (non-load) | 115mm | Suspension material | 1.5mm (thickness) stainless steel |
| Track climbing grounding length (with large load) | 170mm | Body material | 2mm (thickness) 5052 Aluminum Alloy |
| Weight | 1.9kg | Vertical obstacle ability | 40mm |
| Driving payload | 6.2kg | Climbing ability | 36° |
| Battery support | 18650 Lithium battery × 3 (NOT Included) | Minimum turning radius | 0m (In-situ Rotation) |
| Charging time | 1.5h | Battery life | 1h (full power continuous output) |
| Motor power | 5.2W × 2 | Remote control function | WIFI AP/STA |
| Motor encoder | Basic pulse 11PPR | Communication interface | UART /serial bus servo interface / IIC |
Connect to Jetson Nano
Connect to Raspberry Pi 4B
Connect to Raspberry Pi ZERO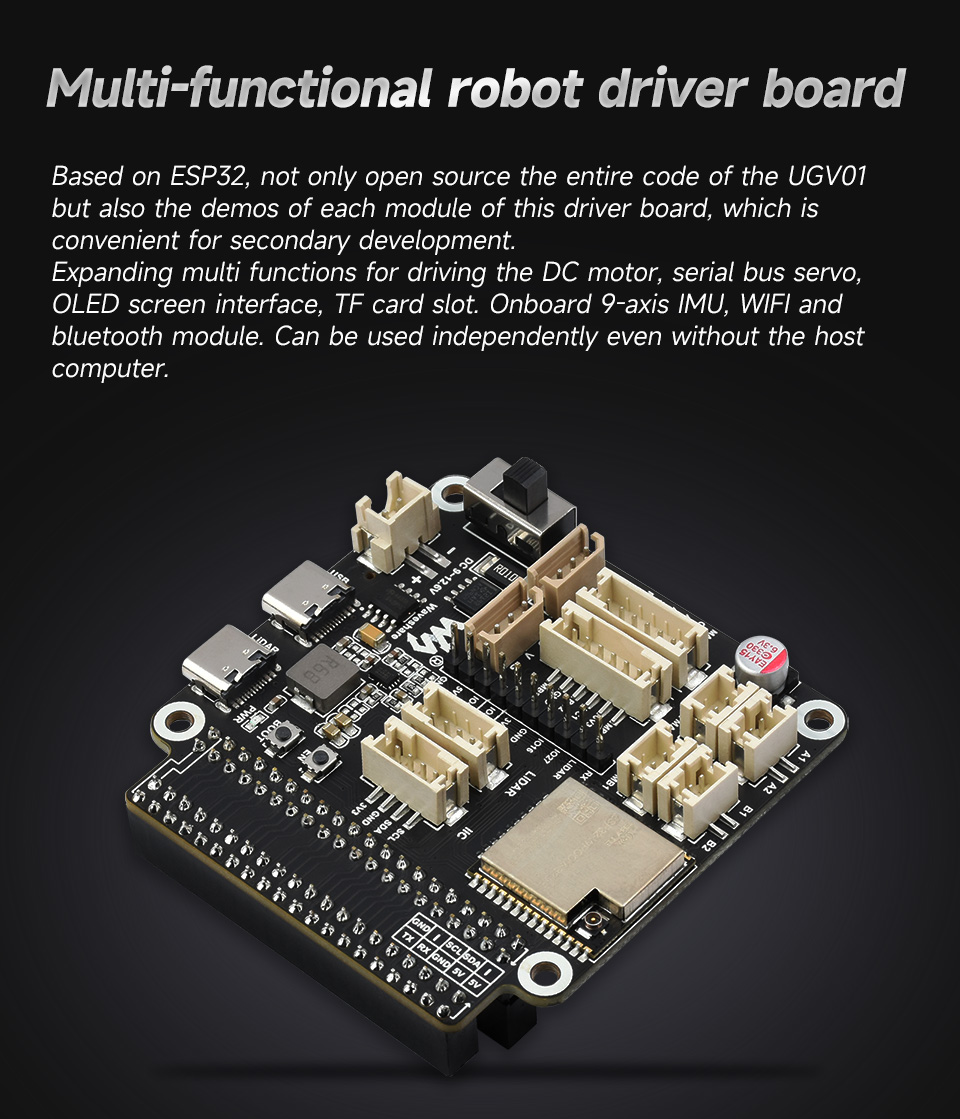 Product Show
Dimensions