Description
Overview
This is the new X825 V2.0 version which release at April 1st 2020, there will be a new case X825-C8 designed for X825 V2.0. The X825-C6 or X825-C7 DO NOT SUPPORT X825 V2.0. The X825 V2.0 Version is updated from X825 V1.5 Version.
Some new features of X825 V2.0(Updated on April 1st 2021):
① Add 4 test pins to achieve powered between X825 V2.0 and Pi4 without additional cable. You can get power from the PI4's Type-C port or X825 V2.0 DC JACK power socket.
② Removed the on-board power button and 4-pin external switch interface. You can connect the X735 board for software safe shutdown & power management .
③ Use more shorter USB 3.0 jumper/connector, so the matching metal case is X825-C8 NOT X825-C6.
Features
Supports upto 4TB 2.5-inch SATA hard disk drives (HDD) / solid-state drive (SSD) (Theoretically it can work with 6TB or 8TB as well. But actually we do not test the X825 board with 6tb or 8tb HDD, you can have a try.)
Ideal storage solution for Raspberry Pi 4 Model B
UASP supported for Raspberry Pi 4, NOT support TRIM
Use a shorter USB 3 connector to reduce the overall height
Use new 4pcs test pins to power each other with raspberry pi 4, no additional wire required
LED blue indicator indicates drive status
USB 3.1 Gen1 to SATA 6Gb/s Bridge Controller
Quick file transfer with high-speed USB 3.1 connectivity from a PC or a Mac
Power Supply Requirement
Power supply: AC 100 – 240V input 50 / 60Hz, 5V DC 4A output
DC Power Plug Size : 5.5*2.5mm (The DC jack has been updated to DC5521 jack now!!!)
Based on X735 V2.5 version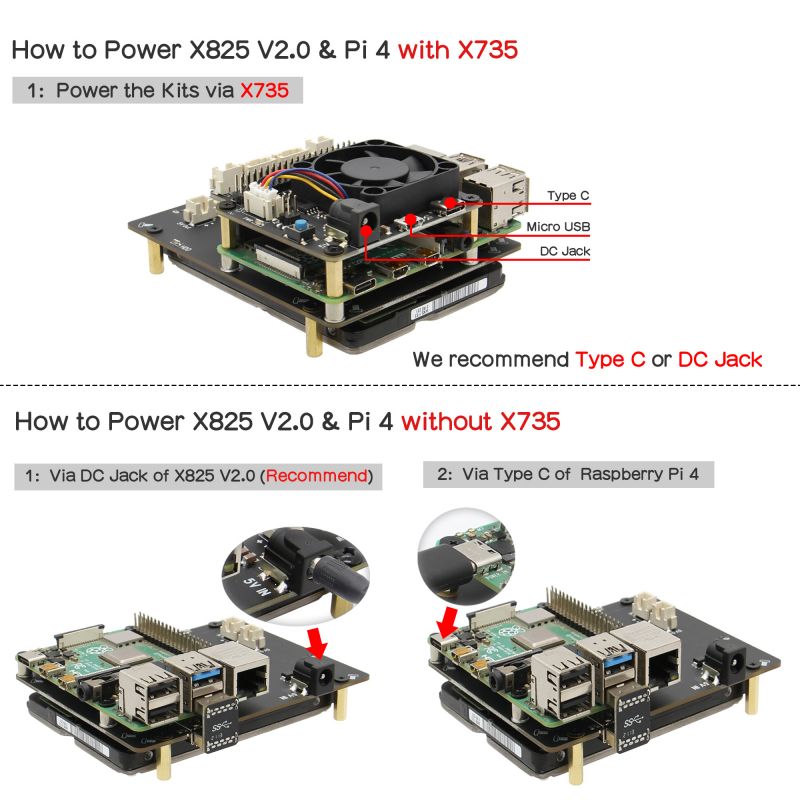 Packing List
1 x X825 V2.0 Expansion Board
1 x USB 3.1 connector
2 x M3x6 Screws
8 x M2.5×6 Screws
4 x Spacer F/F M2.5x14mm
Matching Metal Case
Please refer to X825-C8
User Manual
Difference between Geekworm NAS Family
Pls refer to GEEKWORM NAS Family
Installation Video for X825 V2.0
Thanks for the video by DB Tech!