Description
Note: This product comes with built in CM4104032, ie. WiFi, 4 GB RAM and 32 GB eMMC storage.
Power supply is bought separately.
Hardware Features
The AIO is a highly durable Industrial PC based on the Raspberry Pi CM4. It features a 10.1-inch display with a capacitive touchscreen. Concerning hardware, it offers one TF card interface, two USB connectors, one LAN connector, two RS232 channels, one RS485 channel, and one Relay. The AIO also features one 3.5mm audio connector, one 2W internal stereo speaker, and one Buzzer.
The Compute Module 4 appears in different versions depending on the size of the DDR4 and eMMC. You can choose which version of the CM4 module you would like to purchase with the product. Use the drop-down menu to choose.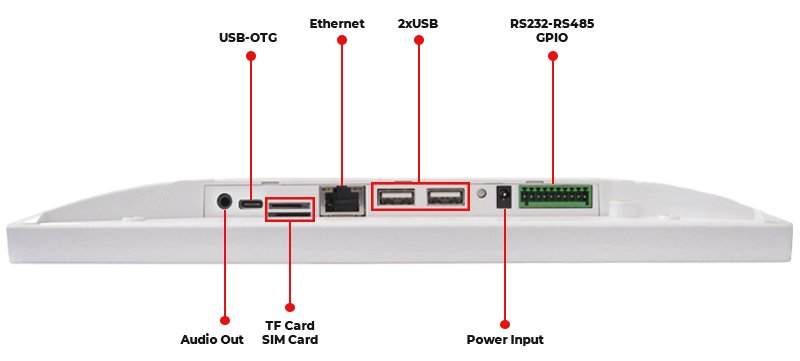 Performances and reliability
The AIO-CM4-101 is the perfect control panel for any home automation project, thanks to the integrated optional ZigBee and PoE modules.
Powered by the Raspberry Pi CPU, a high-performance Broadcom BCM2711 (RPi 4) application processor.
Has display with resolution of 1280×800 pixels. Mic input on the front panel, 2W internal stereo speaker, 3.5mm audio In/Out connector. The RS485 circuit automatically controls the Input and Output direction (no need for software control).
Mic input on the front panel, 2W internal stereo speaker, 3.5mm audio In/Out connector
Multiple OS choices
The AIO-CM4-101, gives multiple OS choices. We offer Debian 10 preinstalled, but you can choose to get Android 9; you can select while ordering, and we will install it for you.
We have developed all the needed drivers, so every hardware feature is readily available for any standard development tool. If your project requires an OS that is not on the list, please contact us, and we'll make a customized version that suits your needs.
If you need a different OS installed, get in touch with us and we will do it for you.


| | |
| --- | --- |
| Weight | 2000 g |
| Dimensions | 260.54 × 178.54 × 26.9 mm |
| Product Weight | 620 g |
| Form-factor | All-In-One |
| CPU | Broadcom BCM2711 (RPi 4) |
| Display Size (inch.) | 10.1″ |
| Resolution | 1280*800 |
| Brightness (NIT) | 350 NIT |
| Touch Screen | Capacitive |
| External storage | 1 TF card slot designed for storage expansion |
| WiFi/BT | Depends on the CM4 selected. |
| ZIGBEE | Internal Zigbee supported, NOT mounted by default |
| 4G/LTE | Internal 4G/LTE module supported, NOT mounted by default |
| Ethernet | 1x Giga LAN |
| Audio | Mic input on the front panel, 2W internal stereo speaker, 3.5mm audio In/Out connector |
| Buzzer | Yes |
| USB | 1x miniUSB OTG, 2x USB 2.0 HOST |
| RTC | High accuracy internal RTC (keep track of time one week after power off) |
| GPIO/Wiegand | Two 5V Logic GPIO Outputs, can be used as Wiegand signal |
| RS485 | 1 Channel by default, 2 Channels at most. The RS485 circuit automatically controls the Input and Output direction (no need for software control) |
| RS232 | 2 Channels by default |
| OS | Debian, Ubuntu |
| Power Input | 9V~36V DC |
| Power Consumption | 8W |
| Current @ 12V | 500 mA max |
| Working Temperature | 0℃~50℃ |
| Plastic Case Color | Black, White |
| Certification | ROHS, CE |