Description
When connecting with a gigabit network card via PCle, it brings Raspberry Pi CM4 two full-speed gigabit network ports and offers better performance, lower CPU usage, and higher stability for a long time work compared with a USB network card. Besides, with a mini size of 55 x62mm, the board still retains the characteristic GPIO pin header of Raspberry Pi, which makes it applicable for connecting other actuators, sensors, and smart cooling fan. Furthermore, there is also a USB2.0 interface that can be connected to mobile hard drives, printers, WIFI modules, LTF modules, etc.
Compute Module 4 IoT Router Carrier Board Mini now provides OpenWRT open-source router system. After a simple setup, it can be used as a router. It is also compatible with Raspberry OS, Ubuntu Server and other Raspberry Pi systems.
The powerful performance of BCM2711 4 core 1.5GHz Cortex-A72 and the rich software support in the Raspberry Pi community make this board a solid foundation for building high-performance gateways, smart routers, and home IoT platforms. It can also be connected to peripherals and used as a mini-NAS, wireless network bridge, or LTE Internet terminal.
Supporting case will be released soon.
The board-socket of CM4 is fragile, please align the direction and then press it down. It is recommended not to repeatedly plug and unplug the CM4 module.
Make sure the CM4 installation direction is correct before powering up.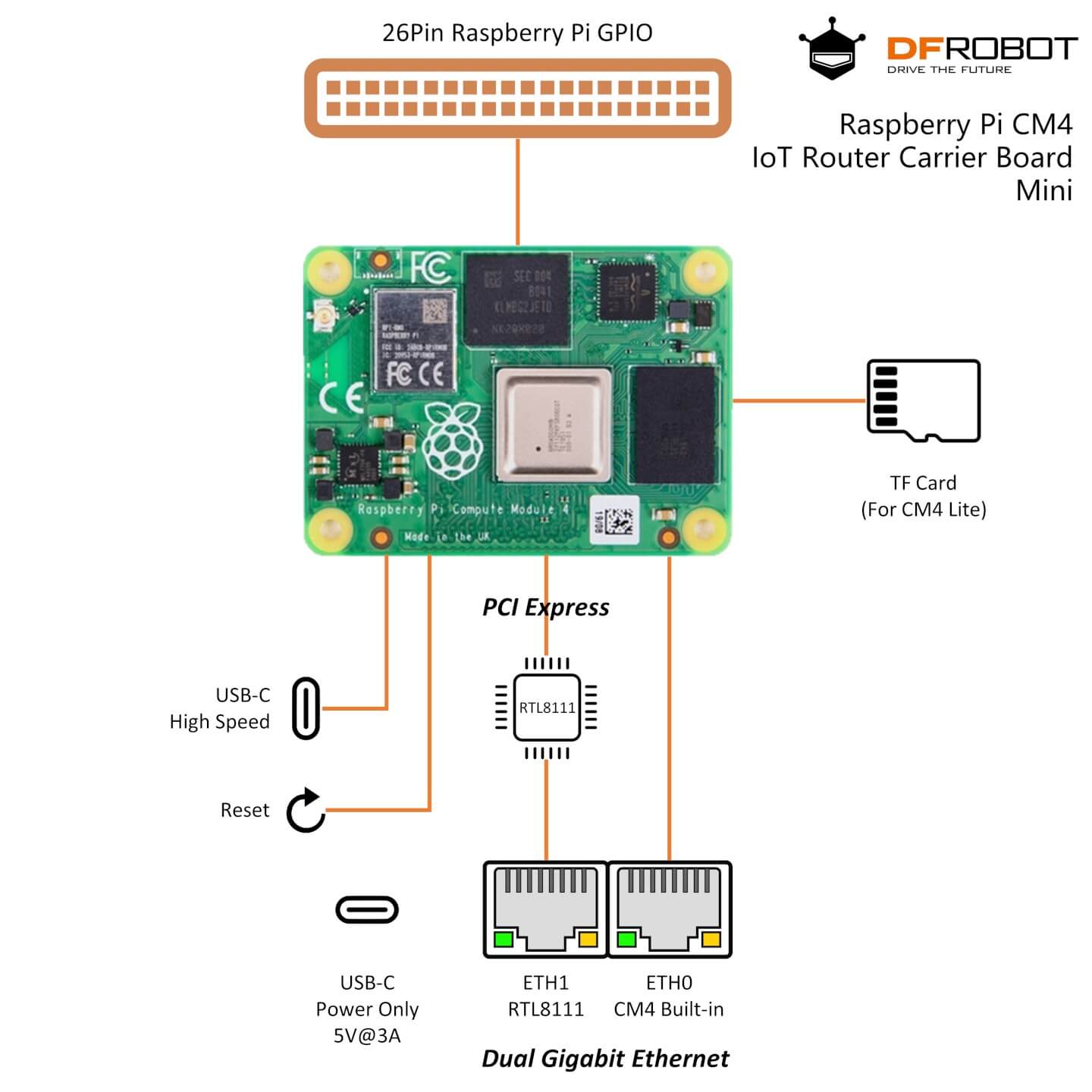 Connect Diagram
Dimension
Note:
The CM4 Compute Module is not included.
SPECIFICATION
Compatible Module: Raspberry Pi Compute Module 4 series
Ethernet:        ETH1: Compute Module 4 Built-In

ETH2: PCI Express 1000BASE-T NIC

USB:        1x USB-C: Power only

1x USB-C: USB 2.0 High Speed

Storage Card: microSD slot (Only modules without eMMC supported)
GPIO: 26Pin GPIO compatible with Raspberry Pi
Power Supply: USB-C 5V/3A
Operating Temperature: 0℃~80℃
Dimension: 55x62mm/2.17×2.44"
DOCUMENTS
SHIPPING LIST
Compute Module 4 IoT Router Carrier Board Mini x1